Apple

       Android
In this week's episode, Dave, Cate and Pete take you through:
What do conveyancers do?Conveyancing is the legal process of moving land or property from one owner to another and conducting the pre-purchase 

contract

 review and associated due diligence. The trio discuss the ins and outs of the conveyancing process, what are they responsible for and how you can engage either a solicitor or a licenced conveyancer to do the job.

 

What is the difference between a conveyancer and a solicitor?Either are sufficiently equipped to manage a property transfer and in the end, the most important factor is the quality of the service provider, not their official title. However, there are some key differences in the breadth of their advice that you should know before making your selection.

 

Can your conveyancing representative work Australia-wide?Property law and the conveyancing process differs state by state, which means a conveyancer must obtain a licence from the state in which they operate and cannot operate in states in which they are not licenced. This can be a huge positive, as you want you

r property conveyancing repre

sentative to be an absolute expert in the law relating to your property transaction. Having to be across one set of property laws and processes is hard enough, let alone seven. 

A solicitor on the other hand can work across all 

jurisdictions

, although we would recommend working with local experts.

 

What are the limitations of your legal representativesdue diligence?

 

The trio discuss the elements of the property purchasing process that your conveyancer or solicitor will not do, which you must be on the look-out for!

 

What can go wrong?The Property Buyer takes you through the legal elements and deal-breakers that conveyancers can uncover during the conveyancing process, that buyers often miss. Tune in for the Property Planner's 

real-life examples 

where legal handy work has picked up illegal cladding, a vendor trying to slip through old body corporate minutes and 

incorrect fence lines,

 highlighting 

why it pays to have a great solicitor or conveyancer in your corner.

 

How do pre-purchase contract reviews work?Having the contract reviewed by a conveyancer or solicitor before you sign on the dotted line is critical. They will look for any potential errors, zoning, outgoings, unusual clauses, any other red flags and give you advice on any special conditions which could be added into the contract to protect you. In today's market where there is increased time pressure, it's important that you communicate to your legal representative ahead of time t

hat you expect contracts to be reviewed prior to purchase and be clear on the turn-around time expectations, as it could be the difference between success and missing out.

 

How do you find a great legal representative?There is nothin

g as reliable as word of m

 If you're asking a real estate agent or other professional to point you towards a conveyancer, beware of any kickbacks they may be getting for the referral. Select someone who is a trusted source, that you can rely on to protect your interests, to introduce you to a solicitor or conveyancer who will provide you with great service.

 

What does a conveyancer cost?The trio discuss how much money you should set aside for a good conveyancer or solicitor. When you're making a million-dollar decision on a property, now is not the tim

e to be cheap on you

r legal assistance.

 

And of course, our 'gold nuggets'
Market insights
The number of vendors lifting their asking price mid-campaign has dropped

. New data from Domain reveals that the percentage of vendors who increase their asking price mid-campaign has lowered from March to April for Sydney, Melbourne, Brisbane and Canberra, which covers around 2 out of 3 property sales.This is likely occurring for a combination of reasons. Values are going up but not as fast as they were earlier this year, agents are more conscious of being busted for under-quoting, and vendor price expectations have risen since the rebound began in earnest. The locations with the highest proportion of vendors lifting their asking price 

is

 dominated by Sydney and Melbourne.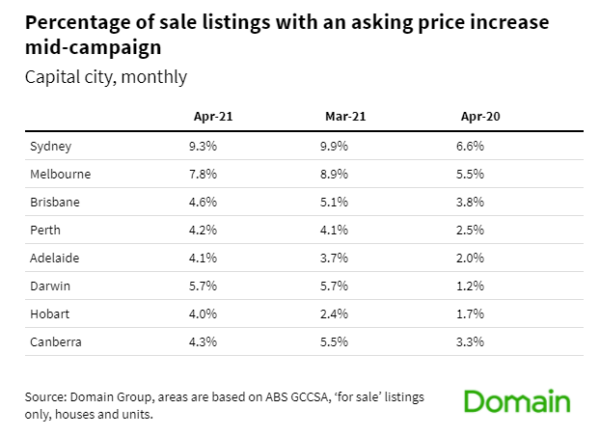 What are the clear signals that an agent is under-quoting? 

This will normally be easy to spot if you've done your homework, know your market and are armed with your comparable sales. If an agent is saying that there are limited comparable sales or where sales provided are not actually comparable, they are probably trying to pull the wool over your eyes. Another factor for the lower quote could be because there is an issue with the property that the agent has factored in that you are not aware of! The important thing to remember is that you're highly unlikely to get lucky with an under-market purchase price on a good quality property. 
Resources:
Show notes:
What do conveyancer's do?

 

A conveyancer is a person whose job is to manage the legal process of moving land or property from one owner to another.

 

The contract is assessed by the person who does the conveyancing?

 

What is the difference between a conveyancer and a 

solicitor?

 

Essentially it boils down to qualifications. A solicitor has a law degree that enables them to practice any field of law, whereas a conveyancer has a specific degree in conveyancing and is licenced to carry out conveyancing work.

 

It really depends on the quality of the service provider – you may have a property lawyer, who has been working in property their whole life. You can also get a conveyancer that has been working in this field for so long, that they 

 

Can legal representatives work Australia-wide?

 

QLD/ACT – All paid conveyancing work in Queensland and ACT must be done by a Law Firm. 

 

Eg

: licenced conveyancers can work for the law firm, but their work must be supervised by a solicitor.

 

Everywhere else – No – only in the state that they are licensed in. This is because property laws differ from state to state. However, there are conveyancers that hold licences in multiple states. 

 

Solicitors – Yes. An Australian legal practitioner granted a practising certificate in one Australian state or territory is able to practise local law in any other Australian state or territory without needing to apply for an additional practising certificate.

 

What are the limitations of a legal 

representatives

 due diligence?

 

Difference between reading a contract and walking through a property – there may be things about the property that they are not privy to. 

 

The buyer needs to be aware of what to look for – which may be a deal breaker. 

 

If the conveyancer is unaware of building works, they may not even know to ask for building certificates to make sure it's up to par. 

 

Ou need to be prepared to tell the solicitor about anything that may be relevant to a contract inclusion. 

 

What are the things that conveyancers can uncover 

that 

buyers

 can miss?

 

They may pick up that paperwork for an extension is there, but not completely finalised. If it's not all legal, the buyer carries the responsibility going forward.

 

Easements, caveats and covenants – easement may not be on a title plan but it could be on a water certificate. They won't know that there is an easement where they were planning on putting a pool or a garage. 

 

If there is a covenant – single dwelling for example, any subdivisions are out of the question. 

 

Caveat – means that someone else has a claim on the property (or an interest) – it could signal an issue that you don't want to buy into. 

 

Zoning – your average buyer may not know where to look for this.

 

Horror stories – what can go wrong?

 

An old body corporate certificate was provided in contract of sale. turned out the body corporate did not have sufficient funds and elevators were due for a service, which meant each owner was potentially going to have to chop 20k each in the next financial year to carry out repairs. This was picked up by the solicitor.

 

Another case where cladding was not compliant, solicitor was able to provide the client ammunition to further negotiate $10k off the purchase price.

 

Another case, solicitor picked up the fence line had been moved when a subdivision went through the land titles office. The purchaser was able to get the equivalent of 30 m2. They used a conveyancer when initially purchased and swapped to a solicitor.

 

Some courtyards are fenced off but it technically common area, not on the title. Car parks on title, this can make or break a purchase. 

 

What does a conveyancer 

cost?

 

You should ear mark $1,300 to $1,700 for a conveyancer – that's a normal file that doesn't have any major issues and is not an off the plan with a contract that is 10 cm thick and takes a day to read.

 

Generally

 you'll pay a little bit more for a solicitor. But there are always variances, some solicitors are cheaper than conveyancers.

 

Conveyancers and solicitors can create special conditions to put into the contract for a purchase

 

How do the contract reviews work?

 

If you're buying, you can ask your conveyancer or solicitor to review the Contract of Sale and Vendor's Statement to look for:

 

any potential errors, 

 

unusual clauses or 

 

any other red flags. 

 

They will also inform you of:

 

what the contract entails, 

 

any important dates throughout the settlement period, 

 

and give you advice on any conditions which can be added to protect you. 

 

Having your conveyancer/solicitor read and explain this information before you commit to the purchase protects you from potentially expensive risks, such as buying a house with an illegal extension. 

 

In today's property market, you may feel pressured as the buyer to make a decision straight away, especially if you are looking to buy in a high-demand area. However, it is always best to ensure you understand all your obligations before signing on the dotted line.

 

If someone is looking for a pre-purchase review, what can they expect and how long will it take?

 

The more you're on the front foot, the more time you have. 

 

But what we're seeing is deals coming to the fore and time pressure. 

 

You need to ask the legal rep, what is the turn-around time right now or how much notice do you need from me?

 

Or are you able to do it same day or overnight?

 

Usually

 it's just a matter of sending them a pdf, you may get some written notes, a phone call or a voice recording back from them. 

 

Some will 

absorb

 the cost in overall conveyancing fees that come out at settlement, some have individual review fees and others will offer the first 2 or 3 for free and then it's on the clock. 

 

If they charge a review fee, you should be comfortable with that. If they're great at what they do, they'll have plenty of files, plenty of clients, and they need to drop everything that they're doing to jump on this and maybe work longer.

 

How do you find a good 

conveyancer

 or solicitor?

 

Word of mouth is very important – you can find a good one on forums or check out their reviews. 

 

Don't ask your agent for a referral, they may be receiving kickbacks – you want a genuine referral that is based on someone's confidence in the service provider. 

 

Select someone who you've been reliably informed provides a good service so you can trust to protect your interests.
Gold Nuggets
David Johnston- The Property Planner's Golden nugget: there are great property conveyancers and great solicitors who provide property conveyancing. And you need to choose what's right for you – often conveyancers will be a bit less expensive than solicitor, and that might be the driver for you. You can get a property conveyancer that does the job just as well. The one thing that a conveyancer won't be able to do is resolve certain legal issues that come up during the process, because it's outside of their qualifications. It may or may not be necessary, but that is just something to understand.
Cate Bakos – The Property Buyer's Golden nugget: being able to look at solicitors review and work out which are the show stoppers and which are the nice to haves. When we get a contract review back, I'll make some recommendations. Typically, they can be around things like finance approval or special conditions. Being clear on whether it's something you can live with, try to get taken out of the contract. Being clear on that will help you move forward.